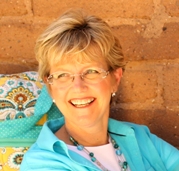 ANNIE UNREIN - ByAnnie.com

A creative lifetime quilter, Annie Unrein of Patterns by Annie and ByAnnie.com has been designing patterns and teaching since 2000.

Annie is the creator of ByAnnie's Soft and Stable®, an innovative product she designed to add body, stability and a professional finish to purses, bags, home deco items, and more.
Her quilts and designs have been published in Fons & Porter's Love of Quilting, Quilt, Quilter's Newsletter, and Memory Makers magazines.