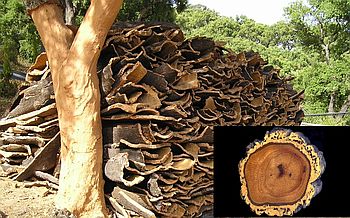 Cork Fabric
Cork Fabric is naturally beautiful, durable, eco-conscious stain-resistant, water-resistant, hypoallergenic, antimicrobial, incredibly soft, and is also

resistant to abrasion, fire, and water
Cork is the outer bark of the cork oak tree which grows primarily in the West Mediterranean Basin.
Once the trees are about 25 years old the cork is traditionally stripped from the trunks every 9-10 years.

The trees live for about 300 years. Because of its impermeable, buoyant, elastic, and fire retardant properties, it is used in a variety of products.
Showing 1 to 17 of 17 (1 Pages)