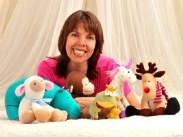 Pauline McArthur
The Australian soft toy designer behind the Funky Friends Factory.

When people ask me HOW the Funky Friends Factory got started...I say that it all began with a BUNNY!
You see, I began making 'Baby-safe Bunnies' for all my friends' newborn babies with sewn on faces and no chewable, choke-able bits.
They were so popular that I moved on to mass-production (that's where the 'factory' bit comes from!)
I hope you enjoy my little critters as much as I do...