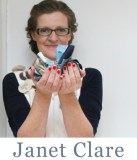 Janet Clare
I create inspirational and lively designs for quilts and stitcheries that combine my unique jointed appliqué templates and free motion machine drawing technique.

Much of my work is inspired by children and their purity of thought, their innocence and the joy they find in the mundane.
As an experienced speaker and teacher, I regularly host talks and workshops focusing on the design process and the creative techniques I use.
I have also written two books: 'Freya and Fred- a week of quilts for a girl and her dog' and 'Hearty Good Wishes- coastal quilts'.
Showing 1 to 2 of 2 (1 Pages)