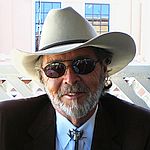 Ira Kennedy
Ira's exposure to Australian Aboriginal art, the native arts of Mexico and the ancient rock art of the Southwest Indians came together to evoke an artistic epiphany.

I have chosen to paint what can't be seen. It's not the color I see, it is the color I feel.
Not just the shape, but the shapes' meaning. Not the composition but the harmony.
My work is to be sensed more than viewed.
The paintings are not an object for the eye alone, but an experience for the mind.
Showing 1 to 23 of 23 (1 Pages)