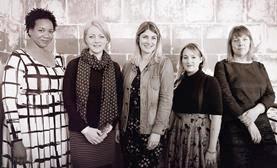 Ruby Star Society
L to R - Rashida Coleman-Hale, Melody Miller, Alexia Marcelle Abegg, Sarah Watts, Kimberly Kight

Ruby Star Society starts with five women working collaboratively and supportively to design delightful, beautiful fabrics, and it continues with you.
Every person who has had a vision, who has wanted to create something beautiful, and who is willing to dream big.
That, friends, is magical confidence; and we're here to share it with you.
Our designers' talent and vision are the backbone of Ruby Star Society.
Showing 1 to 7 of 7 (1 Pages)