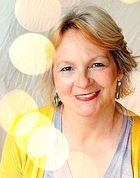 SPOTTED - by ZEN CHIC - BRIGITTE HEITLAND
Brigitte is mother of three children and lives with her family in Germany. A former interior designer and student of textile design, Brigitte Heitland has been sewing since she was a young girl.
The one thing every quilter needs all the time? Blenders! Prints that read like a solid, but have that extra vibrancy of a texture in it.

SPOTTED comes with a retro texture, Little subtle spots in the printed surface. With its bright hues the color palette serves especially the modern quilter excellently.
More than 80+ colors in collection.