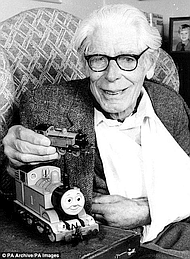 Wilbert Awdry - Creator of Thomas The Tank Engine - UK
Wilbert Awdry the creator of Thomas the Tank Engine is a British anthropomorphised fictional steam locomotive in The Railway Series books, published from 1945.

He became the most popular and famous character in the series, and is the titular protagonist in the accompanying television spin-off series Thomas & Friends.


Thomas's best friends are Percy and Toby, though he is also close friends with Edward and Duck.




In 1979, British writer/producer Britt Allcroft bring the stories to life as the TV series Thomas the Tank Engine and Friends (later simplified to Thomas & Friends).

The programme became an award-winning hit around the world, with a vast range of spinoff commercial products.




Showing 1 to 5 of 5 (1 Pages)