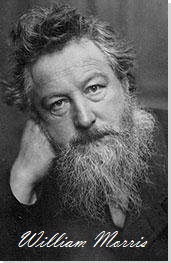 William Morris - Designer, Craftsman, poet & early socialist - UK
William Morris (1834 – 1896) was one of the most influential designers of the Arts and Crafts movement.

He was also a poet, artist, philosopher, typographer and political theorist.


His work is widely recognized and is best known for his range of wallpaper and textile designs which are largely held by the Victoria & Albert Museum, London.




His designs for furniture, fabrics, stained glass, wallpaper, and other decorative arts generated the Arts and Crafts movement in England.



Showing 1 to 3 of 3 (1 Pages)