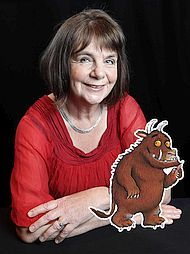 Julia Donaldson - Creator of The Gruffalo - UK
The Gruffalo is a British children's picture book by writer and playwright Julia Donaldson, illustrated by Axel Scheffler, that tells the story of a mouse, the protagonist of the book, taking a walk in the woods.

The book has sold over 13 million copies, has won several prizes for children's literature, and has been developed into plays on both the West End and Broadway and even an Oscar nominated animated film.


A mouse walks through the wood and encounters predators (first a fox, then an owl, and finally a snake).




However, after getting rid of the last animal, the mouse is shocked to encounter a real Gruffalo.



Showing 1 to 4 of 4 (1 Pages)